What is Pregnant with adoration ?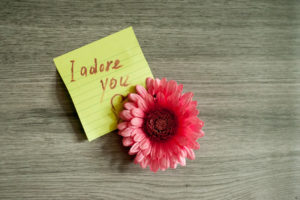 It is Christmas time and I have a good friend whose birthday is on Christmas.  There is a lot of competition for attention having been born on Christmas.  Look how happy this couple looks during pregnancy.  The happy husband anticipates new life with his ear against his wife's womb.  I have been learning this year that love goes two ways. Love goes horizontal to other people in our lives and love goes vertical = to Father Son and Holy Spirit. 
As I intentionally slow down and sit down with God to encounter Jesus, the song like that which Mary sang in Luke actually comes forth from my heart to Gods heart.  There is an umbilical cord that still remains with US and Jesus.
In sports there are postures and positions on a team. Defense and offense.  So what has been my posture with God this Christmas ?  Am I , Barbara, singing at Jesus or to Jesus ?  A friend of mine spoke one day about entering into Gods courts with praise. The picture I got was this pregnant pause.  I am coming before my most Holy God and the very lover of ME.  I pause now in anticipation of an encounter with God the Father Son and Holy Spirit.  My heart leaps and bows sometimes at the same time.  haha.
Could I adore You ?

All around the world little children and people in wheel chairs and hospital beds and on football fields are singing that great worship melody – O COME LET US ADORE HIM – we are pregnant with adoration.  Pregnant with adoration together and pregnant with adoration individually.
I find hope coming back and sorrows being lessened as I ponder anew being impregnated with Emmanuel.  It still knocks me out that Jesus came as a baby.  I love when I get real child like with God in our love affair.   The word ABAR in bible means to cross into. You become pregnant in Gods womb again which is where we came from before earth. ABAR in 1 Kings 19:11 means to pass by in a very significant and passionate way.  Pregnant with adoration comes in lingering with God. Not to get something. We linger to BE WITH the Christ.  This is our identity in the very world we live.
I was meditating on the Song Mary sang to her child the Lord. I was really looking at with my spirit what was going on between the old lady and the young lady.  Elizabeth in messianic birth beyond her days and Mary in messianic birth as a young woman. I do not think they only made cookies or swept the floor.  I think they fell beyond their knees…. pregnant with adoration can bring us to be faint with love…faith with adoration…. we feel and sense Jesus with every cell in our being in its fullness…. our ambilical cord  connects to the Holy Spirit and the Spirit reveals Jesus up close and very personal.  I am not going to settle for stale love with Jesus.  Holy Spirit impregnates us with Jesus .
When pregnant with adoration the baby in the manger leaps in my womb. I can hear the very heart of love Jesus has for me beating… speaking… The intentional pursuit of Jesus creates pregnant adoration. Adoration is cultivated.
My most favorite presents in life are to know others who are truly going after Father Son and Holy Spirit encounters.  To linger or not to linger…mmmmmm….. If you have an encounter with adoring God I would love love love to tell others.   I will finish with the truth that I really pursue. Jesus says that the same love the Father has for Jesus he has for us.  I pray that the Lord kills anything in me that keeps that over the top almost incomprehensible reality for all of us.
 John 17:11b   " so that they may be one as we are one." 

John 17:26 " I have made you known to them, and will continue to make you known in order that the love you have for me may be in them and that I myself may be in them.  "

Glory to God in the highest and peace to all mankind.

Saturday shows in Bakersfield CA at 2:45 – 3:00 MST KERI

Saturday in Kansas City KS 4:30-4:45 MST KCNW

Sunday in Albuquerque NM 9:30-9:45 MST KKIM

Monday in Scranton PA 5:15-5:45 MST WITK

http://www.wilkinsradio.com/our-stations/witk-1550am-wilkes-barrescranton-pa/

Tuesday in Omaha NB 4:45-5:00 MST KLNG