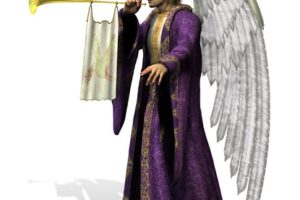 Luke 1:26-38 
Christ's Birth Announced to Mary
26 Now in the sixth month the angel Gabriel was sent by God to a city of Galilee named Nazareth, 27 to a virgin betrothed to a man whose name was Joseph, of the house of David. The virgin's name was Mary. 28 And having come in, the angel said to her, "Rejoice, highly favored one, the Lord is with you; blessed are you among women!"[a]
29 But when she saw him,[b] she was troubled at his saying, and considered what manner of greeting this was. 30 Then the angel said to her, "Do not be afraid, Mary, for you have found favor with God. 31 And behold, you will conceive in your womb and bring forth a Son, and shall call His name Jesus. 32 He will be great, and will be called the Son of the Highest; and the Lord God will give Him the throne of His father David.33 And He will reign over the house of Jacob forever, and of His kingdom there will be no end."
34 Then Mary said to the angel, "How can this be, since I do not know a man?"
35 And the angel answered and said to her, "The Holy Spirit will come upon you, and the power of the Highest will overshadow you; therefore, also, that Holy One who is to be born will be called the Son of God.36 Now indeed, Elizabeth your relative has also conceived a son in her old age; and this is now the sixth month for her who was called barren.37 For with God nothing will be impossible."
38 Then Mary said, "Behold the maidservant of the Lord! Let it be to me according to your word." And the angel departed from her.
Advent is preparation time. 
Zechariah just prior is encountered by an angel 1:18 Luke and he asked how can I be sure of this ?  Angels are real and they still today bring messages and ministry for God and to God.  In Genesis and Numbers there are references 32 times regarding angels. All angels were created holy, Matthew 8:38.
Angels have names, ranks, positions and jobs to do for God.  In Isaiah 14 we see where Satan was thrown out of heaven and down to the earth. So one third of angels are evil and are very organized and less powerful than Gods elect angels.   Enjoy this 15 minute broadcast to bring truth and curiosity to your heart and mind this Christmas.  Angels are on assignment.  O come let us adore Him.  Christ the Lord.  Angels we have heard on high sweetly singing over the plains and the mountains in reply echoing their joyous strains. Angels we have heard on high sweetly sweetly through the night and the mountains in reply echoing their brief delight. Gloria in excelsis Deo, Gloria in excelsis Deo.  Broadcast times are posted in main menu of this website.  We pray for you to receive a gentle breath of God on your heart from these weekly inspirational talks.   Pastor Barbara Moore